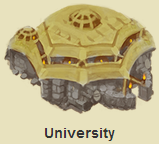 A University is built from a level 3 Town Center. It uses assigned laborers to reduce construction/upgrade times in the city. It also provides a number of very useful technologies and buildings.
The time reduction is calculated when the construction/upgrade is started. Assigning more laborers to the University will not affect anything already in progress.
Structures
Edit
A University can build:
Technologies
Edit
A University can research:
All structure and unit stats, cost to upgrade per level, and other abilities can be seen on the Official Database Entry
Structures

 Armory ·
 Barrack ·
 Basement ·

 Blacksmith ·

 Cannon Tower ·
 Farm ·

Foundry

 Lumbermill ·

 Lumbering Camp ·

 Market ·

 Refinery ·

 Stable ·

 Tower ·
 Town Center

 Trading Post ·

 Training Ground ·
 University ·

 Vineyard ·

 Workshop
Ad blocker interference detected!
Wikia is a free-to-use site that makes money from advertising. We have a modified experience for viewers using ad blockers

Wikia is not accessible if you've made further modifications. Remove the custom ad blocker rule(s) and the page will load as expected.