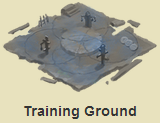 Training Grounds are used to create Units. All existing Training Grounds in a city must be upgraded to at least level 4 before a new one can be built. At level 5, a Training Ground can be converted to a Barrack. Doing so will lose any technologies that Training Ground had researched. Converting to barracks does not use a build slot. So you can build two buildings (or three with a level 11 Town Center) and convert a Training Ground to a Barracks simultaneously.
A Training Ground can train and upgrade:
Structures
Edit
Training Ground (Level 2) can build:
Training Ground (Level 5) can be converted to:
Technologies
Edit
A Training Ground can research:
The "# for #" technologies give the player free extra units at the specific Training Ground where they are researched, based on how many units are trained. This reduces the cost, but not the training time and only counts towards the building it is researched in, not the other Training Grounds.
In addition, a training ground comes with the relevant Kickstarter technology already researched.  This technology will train units instantly if you have no other Training Ground units at that city.
All structure and unit stats, cost to upgrade per level, and other abilities can be seen on the Official Database Entry
Structures

 Armory ·

 Barrack ·

 Basement ·

 Blacksmith ·

 Cannon Tower ·

 Farm ·

Foundry

 Lumbermill ·

 Lumbering Camp ·

 Market ·

 Refinery ·

 Stable ·

 Tower ·

 Town Center


 Trading Post ·

 Training Ground ·

 University ·

 Vineyard ·

 Workshop