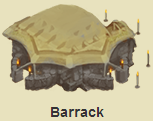 A Barrack trains Units. It is converted from a level 5 Training Ground to a level 1 Barrack.
When a Barrack is converted from a level 5 training ground, you lose 4 IP because you went from a level 5 structure to a level 1 structure.
A Barrack can train and upgrade:
Technologies
Edit
Barrack can research:
Swordy Diet
Archy Diet
Piky Diet
Glady Diet
Each Barrack can only research one Diet technology.
All structure and unit stats, cost to upgrade per level, and other abilities can be seen on the Official Database Entry
Structures

 Armory ·
 Barrack ·
 Basement ·

 Blacksmith ·

 Cannon Tower ·
 Farm ·

Foundry

 Lumbermill ·

 Lumbering Camp ·

 Market ·

 Refinery ·

 Stable ·

 Tower ·
 Town Center

 Trading Post ·

 Training Ground ·
 University ·

 Vineyard ·

 Workshop
Ad blocker interference detected!
Wikia is a free-to-use site that makes money from advertising. We have a modified experience for viewers using ad blockers

Wikia is not accessible if you've made further modifications. Remove the custom ad blocker rule(s) and the page will load as expected.